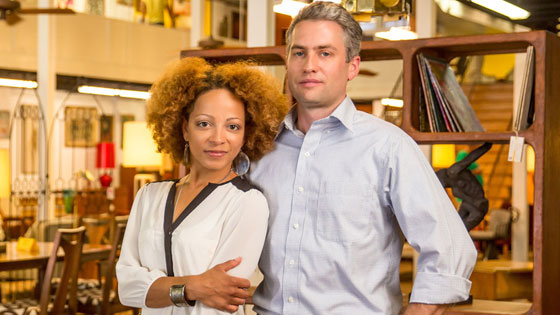 Over 10 Years of Fabulous Vintage Furniture
Furnish Me Vintage is celebrating over 10 years in business! Husband and wife team, Todd Wilson & Jackie Williams started the business back in 2010, it was a serendipitous venture. She was a web designer, and he was in television. Their 1950s era St. Pete home inspired the couple to begin collecting all things mid-century modern, and eventually selling overflow treasures out of the garage.
Today, we are nationally recognized leaders in the vintage furniture world. Todd and Jackie personally cultivate and restore relics for your enjoyment. You can find our furniture in the homes of countless Americans, in hotels, colleges, and businesses across the nation. Maybe you've spotted our furniture on "American Horror Story," in "New York" or "Lucky" magazines. Our reach goes as far as China, Lithuania, Mexico, Turkey, and even Australia! This business was born of a love for fine design. We feel blessed to be able to channel our passion into an endeavor that we can share with all of you!
We are firm believers in perpetual growth. As such, we've rolled out a few changes that will propel our company into the new age of retail. Our aim is to pepper your shopping experience with pleasantries. Thank you for your support! Please feel free to reach out via e-mail at any time. We are happy to see if we can be of service to you.
Shop in Person
We moved to Chattanooga! Our St. Petersburg, Florida store has closed for good. We are now located in Chattanooga, Tennessee. Our new central geographic location allows us to better serve our nationwide customers. We are just a few hours drive from Nashville, Knoxville, Atlanta and Huntsville.
St. Pete Records has moved! You can now find our record store, St. Pete Records INSIDE Furnish Me Vintage at 4639 Shallowford Road in Chattanooga.
Shop on line 24/7. Folks can shop our website, 24 hours a day, 7 days a week! We ship nationwide and offer free shipping on most orders!
Free & Discounted Shipping
Free shipping We are offer free shipping on many items. Look for the "Free shipping icon." The shopping cart will automatically calculate a $0 shipping free for qualifying orders.
Discounted Freight. $199 will get you door to door freight on most items. Our carriers charge double that, or more, for basic freight. That's right, we're covering more than 50% of the shipping fees for you! Oversize and items needed special delivery requirements are bumped up to $450 rate. This still reflects a substantial discount.
Shopping online
Shop on Facebook using the "Shop" button or link on our page
Shop on Instagram by clicking the white dot on the picture
Use AmazonPay or Paypal Pay for expedited check out. Use your Paypal or Amazon login to generate all of your personal details. No need to retype it all! Paypal Checkout gives you the option of paying via Paypal funds, credit card or your bank account.